Dear National Car Parks,
As it seems the existence of your call centre is to goad people into a state of rage and you insist that everything has to be put in writing, I shall put my complaint to you in writing via my blog, before sending it to you in writing.
I am a season ticket holder for the station car park at Harold Wood.  My car is parked there on a daily basis.  On return to my vehicle on February 28th, I was surprised to find I had been ticketed.  Here's the ticket: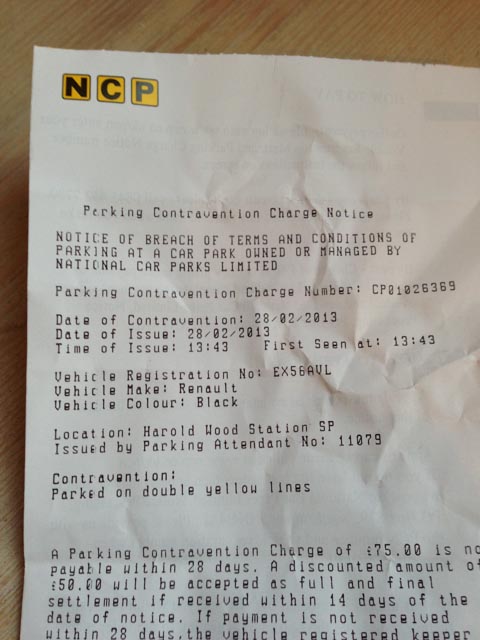 Note the contravention: "Parked on double yellow lines".  This was a surprise to me because there were and are no double yellow lines present.  For the non-drivers reading this, and confused NCP parking attendants, double yellow lines tend to look like this:
This is quite clear, right?  Two parallel yellow lines at specific distances from the side of the road with a crossing bar at each end.  Now, here's a picture of where I was parked: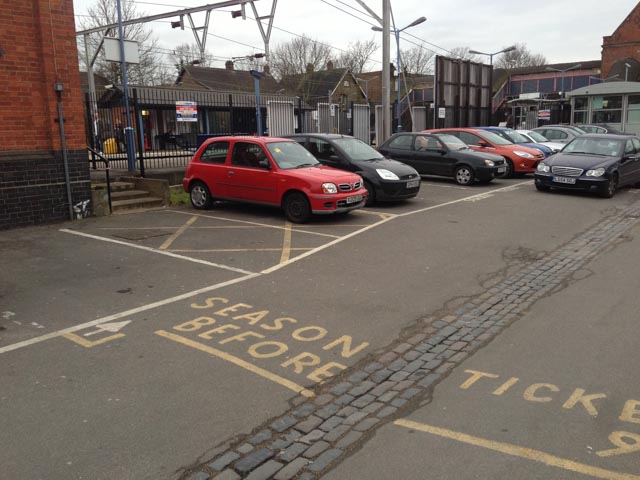 See the bay to the left of the red car? That's where my car was, wholly within the confines of the white border.  You might want to check out the full size version of the photo but, looking at the example double yellow lines above, can you see where the double yellow lines I was ticketed for parking on are? I'll sit here quietly while you check.
Done? Good.  You didn't spot the double yellow lines, did you? Correct, that's because there aren't any to spot. I can read your mind.  "Ahhh, Martin, you silly boy.  You've parked on a restricted area, there are yellow hatchings. Tsk."
That's almost true, there are indeed yellow hatchings but that's irrelevant.  Why so?  Just this:  When NCP took over the car park many years ago, they repainted all of the bays with fresh white markings.  Here's a closeup of part of that bay: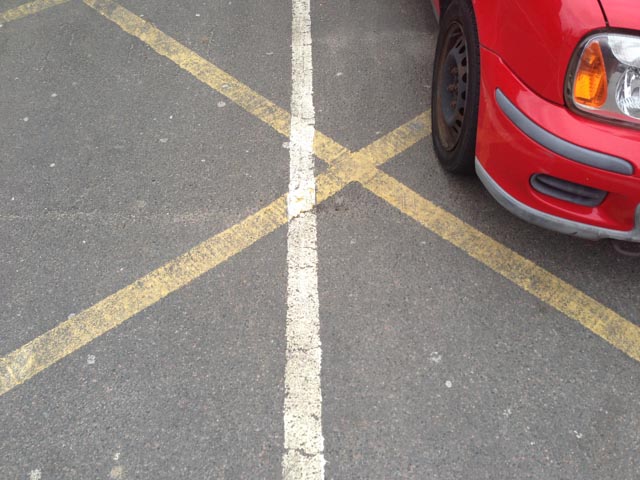 Note that the white line is painted over the yellow one.  Had NCP not intended for people to use this as a parking bay, why on earth would they specifically paint bay markings there?  The answer is, they wouldn't.  Those markings used to denoted an area where you weren't supposed to park because it's where a fast food place used to have its bins.  Rather than scraping the old lines up, they just painted new ones over the top.
Add to this the fact that I have been parked in that exact same spot dozens of times over the past couple of years, and this is the first time my car has been ticketed, I think what we're dealing with here is an overzealous or brainless parking attendant.I currently can't even talk to you about this over the phone because even after 4 days, the ticket hasn't appeared on your system. I now have to waste some of my life sorting this out.
No love whatsoever, merely tired rage,
Martin A. Brooks